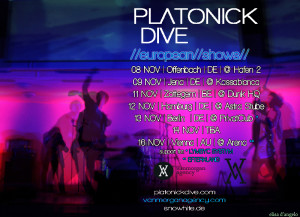 PLATONICK DIVE | EUROPEAN NOVEMBER SHOWS
THERAPY ⇒ EUROPE
VanMorgan Agency, Snowhite and Platonick Dive proudly present the first European gigs, included some wonderful supports for great bands like Efterklang and Lymbyc Systym.
Dates below:
8th NOV – Offenbach (DE) @ Hafen 2
9th NOV – Jena (DE) @ Kassablanka
11st NOV – Zottengem (BE) @ Dunk! HQ (Dunk! Festival exclusive showcase)
12nd NOV – Hamburg (DE) @ Astra Stube
13rd NOV – Berlin (DE) @ PrivatClub w/Lymbyc Systym
14th NOV – TBA
16th NOV – Vienna (AU) @ Arena w/Efterklang
Infos, tickets, stage times are coming soon!